Barrel Tasting is one of Sonoma County's most popular annual wine events and also my favorite. On the first two weekends in March, more than 20,000 tasters converge upon Healdsburg and the surrounding area to sample young wines right out of the barrels where they age. The weekends also provide the opportunity to purchase wine "futures" on upcoming releases. The discounts are hard to pass up, and many limited-release wines sell out before they're even bottled.
What I appreciate most about Barrel Tasting is that winemakers, cellar masters and winery owners are available to answer questions, providing an insider's view of the winemaking world not often available to the public.
On the first Saturday morning, I drove out Canyon Road from Geyserville toward Pedroncelli Winery. After passing through a long stretch of moss covered oaks, the view that opened before me confirmed my choice of location. Before me, leafless rows of knotted vines followed the curves of the hilly landscape, seeming to flow like waves into the valley below.
When I reached the Pedroncelli sign, I turned left to park beside a vineyard. As I walked up to the winery, Family member Ed St. John greeted me and several other newly-arrived visitors, handing each of us a tasting glass. Pointing out the barrel room, Ed invited us to first join him on a mini tour of the grounds while sharing a bit of winery history.
During Prohibition, the John Pedroncelli family purchased this then-defunct winery. At that time, commercial winemaking was illegal, and Mr. Pedroncelli planned to sell grapes to home winemakers. Long after repeal, a few decades later, John's winemaker son—also named John—joined his father, and a few years later, his brother Jim became sales manager. In the early 1960s, the brothers bought their dad out. Fifty years later, and with the help of third, and now fourth generation Pedroncellis, the winery continues as family owned.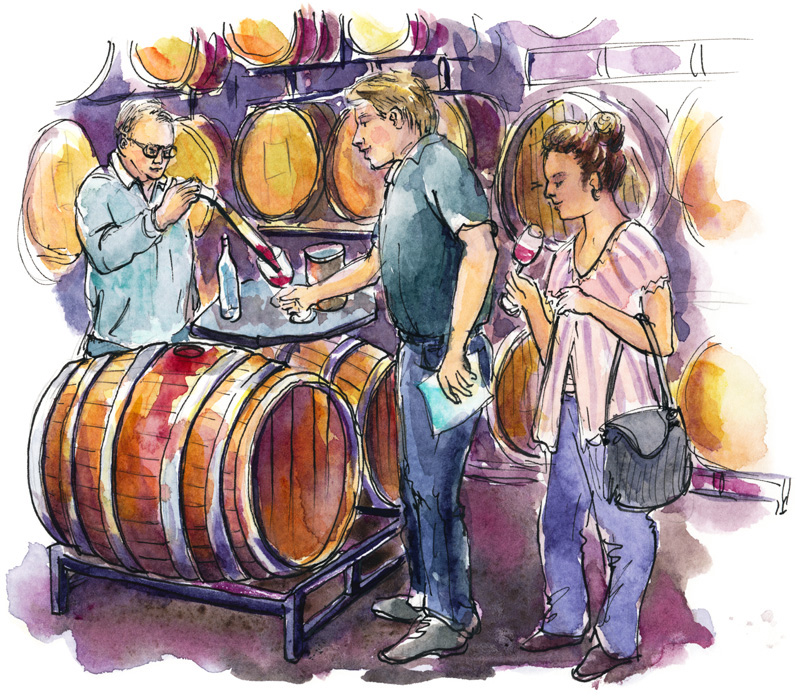 At the tour's end, our group filtered into the barrel room for tasting. Before indulging my taste buds, I wanted a sketch of the action. We all watched as octagenarian John Pedroncelli extracted wine from the barrel. To do this, he used a wine thief, a long glass tube tapered at one end, with an opening at each end. John lowered the tapered end into the barrel and then covered the top opening with his thumb to hold the wine in the glass tube. Placing the tube inside the taster's glass, he released his thumb, allowing the inky-red liquid to flow into the glass. It's quite a treat to watch.
After about an hour, there was a break in the crowd, so I set down my sketch pad and introduced myself to John. He poured me a sample of garnet-colored liquid from the barrel, describing it as a 2010 Cabernet Sauvignon, blended with Cabernet Franc. I swirled my glass to draw air into the wine and thereby release its aromas. The wine tasted full-bodied and had a velvety texture in my mouth. I wondered how long the wine had aged in the barrel, and I asked John if it would soon be bottled. He told me it had been aging for 12 months, and would spend another month or two in the barrel before bottling and release.
Remembering the vineyard I'd parked beside, I asked if those grapes had been used to make the wine I was tasting, and John stated that those vines were 100-year-old Mother Clone Zinfandel. The Cabernet grapes, he said, were located a couple miles down the road in the Valley.
Cellar Master Polo Cano then arrived, and John introduced us. I asked Polo about his responsibilities, and was impressed by their scope, which consists of oversight of all wine production from crush pad to bottle. One of his recent jobs had been the installation of two vineyard owl houses. Owls are great hunters of the mice and gophers that feed on vineyard roots. Polo was pleased to report that one of the houses was already occupied.
Noticing that the day was fleeting, I asked for advice on a good vantage point for sketching. John and Polo both agreed that the two small hills behind the winery provided the best views. Thanking them both, I headed out to sketch.
Outside the barrel room, I was pleasantly greeted by my wife Marilyn, who met me with a smile and a picnic basket. She'd arrived an hour earlier to relax and enjoy the view from the bocce ball courts. Together we climbed the hill behind the winery, wading through chamomile flowers used as a vineyard cover crop, and found a place to sit in the shade of an oak.
While lunching on goat cheese, crackers, and delicate slices of roast turkey, we enjoyed the unseasonably warm temperatures and watched the bees buzz. With much of Dry Creek Valley visible in the near distance, we listened to laughing tasters make their way in and out of the winery below. After savoring a square of chocolate, I sketched the winery while a ladybug crawled across my sketchpad.
With a full day of sketching, picnicking, and wine tasting behind me, I picked up a bottle of Mother Clone Zinfandel from the tasting room and Marilyn and I headed home with smiles on our faces.