Yesterday, my family (Marilyn my wife, my dad, and I) went to see the San Francisco Giants play in AT&T Park for the first time in a while. Attending a live game is so much better than watching it on TV and it's nice to get a reminder of the incredible energy that accompanies the live action game.
For this trip, I set out to change my usual sketching routine by creating smaller, looser sketches so I could complete as many as I could. I often feel like I don't have time to do a sketch and so I set out to prove myself wrong.
Since we live in the North Bay, we decided to take the Larkspur Ferry that goes from Larkspur directly to the Giant's ball park. (10 minutes sketch while waiting for the ferry to depart)
We purchased tickets to and from the ball park at Larkspur Landing. (5 minute sketch)
The Ferry arrived and after a twenty minute wait, we departed. (3-4minute sketch)
We sailed past San Quintin Penitentiary. I sketched the buildings as we moved passed so the angles were changing as I drew but somehow it still came together, however inaccurate. Famous inmates include Charles Manson, Sirhan Sirhan, and Stanley "Tookie" Williams. (5-7 minute sketch)
Off in the distance, sail boats floated around the bay with fog rolling in behind them. (2 minute sketch, wind blowing through my hair)
Bouys used as markers help ship captains navigate the San Francisco Bay. (2 minute sketch)
The island of Alcatraz was barely visible through the fog (2 minute sketch)
We cruised under the Bay Bridge shrouded in fog. (4-5 minute sketch)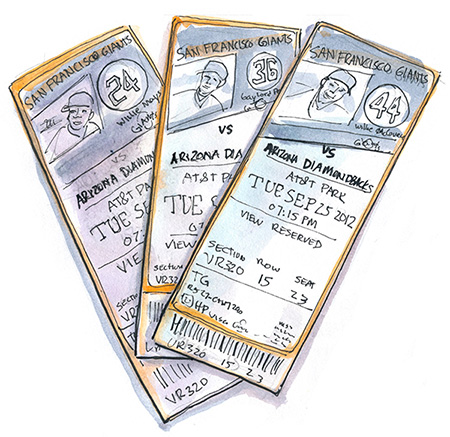 We arrived at AT&T Park and validated out tickets and asked an usher to help us locate our seats. I commented that they were in the nose bleed section. He replied, "oh no, we don't have Nose Bleed seats in this ball park, we have View Reserved seats." And he was right, we walked around the ball park and climbed the stairs to the tippy top of the park and had a great view of the Bay beyond the stadium. (30 minute sketch)
We enjoyed watching the game even though we lost to the Arizona Diamondbacks, 7-2. It was great to see Posey, Lincecum, Panda, and the rest of the gang play ball. Since the Giants had already clinched the National League Title, they were probably taking it easy since this game wasn't going to help them advance. I can't wait till the playoffs begin! (Drawn over the course of the game, sometimes with greasy chicken and french fry coated fingers.)
So I proved myself wrong and now I've learned that I almost always have time for a quick sketch.